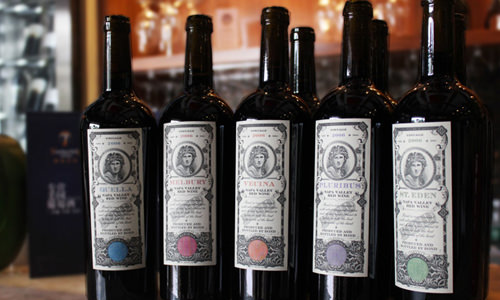 Bond Estate showcased their portfolio's consistently stunning quality and made their unique qualities easy to appreciate.
2017 marks the unofficial 20th anniversary of Bill Harlan's Bond project, which the Bond website describes as "A portfolio of wines that are diverse in their geographic representation and 'grand cru' in quality, all under the umbrella of one philosophy, one team, one mark." Like Harlan Estate and its owner's more recent Promontory endeavor, the Bond project grew slowly and organically.
In an effort to follow a Burgundian approach to vineyard selection, BOND Estate uses fruit from specific growers that express particular features of those areas, albeit following strict Harlan directives. Beginning in 1997, Bill Harlan and Bob Levy carefully selected 27 vineyards that would then be whittled down six specially designated sites. Fourteen years later, only five vineyards have made the cut and they are still looking to discover the sixth. Each of these unique sites articulates the distinct characteristics found in the terroirs of Napa Valley. The five sites are Melbury, Mt. Eden, Pluribus, Quella and Vecina.
This type of painstaking precision should be of no surprise to us as Robert Parker (the only wine critic able to make or break a winery) has referred to Bill Harlan as a "perfectionist." Like his Harlan Estate cabs, BOND Estate cabs are big, rich and powerful wines. Impressive in their youth, they are intended for long cellar aging.
A Brief Overview of Bond's Five "Grand Crus"
Melbury is a rocky, steep 7-acre south/southeast-facing vineyard planted in 1991 in the hills east of Rutherford on the slopes north of Lake Hennessey, at an altitude mostly between 400 and 500 feet. With soil that features a high percentage of clay, the wines it produces are typically round and velvety, displaying as much red fruits as black. Melbury rarely shows the sheer density of the Bond wines that come from vineyards lower on the slopes; it's known more for its elegance and for its aromatic spice and floral components.
Vecina is actually situated directly southeast of the Bond winery, on terraced volcanic soil slopes in the western foothills of Oakville at an altitude ranging from 221 to 330 feet (the Harlan Estate vineyards climb to 1,225 feet). The 11-acre site benefits from the cooler morning sun as well as cool air at night but afternoons are very warm. Vecina is typically a powerful, layered wine with a huge amount of color and tannins; it is invariably a mistake to open bottles too early as it is normally the most backward of the Bond bottlings.
St. Eden comes from an 11-acre rocky knoll located just north of the Oakville Crossroad, on iron-rich red rocky soil that originally came down from the Vaca Mountains in a landslide. The lowest of the Bond sites at an elevation ranging from 145 to 188 feet, it's on a gentle north-facing slope (it's the least steep of the Bond vineyards) and is typically the highest in acidity and the most sharply focused. Winemaker Cory Empting referred to its "yin-yang of a ripe, rich entry with a coolness that's due to strong acidity, which takes the weight off the wine."
Pluribus is a steep 7-acre site on volcanic bedrock at an elevation between 1,100 and 1,300 feet on the slopes of Spring Mountain, with exposures to the north, east and southeast. The vineyard is surrounded by a conifer forest, which often gives the wine a cedary quality. As the vines are protected by afternoon shade, the serious mountain tannins of the Pluribus wines typically show a racy quality owing to sound levels of acidity in the grapes.
Finally, Quella comes from a steep southwest-facing 9-acre site planted in 1998 in the eastern hills overlooking Napa Valley. The site is an ancient uplifted riverbed composed of cobble and rocks interwoven with pockets of volcanic ash. Of the Bond sites, it typically produces the lowest crop level and its wines are focused and structured yet with a delicacy and often a saline quality. "The wine is all about fabric and weave, about levity," noted Empting. "It jumps out of the glass. It's more Haut-Brion than Latour." The altitude here ranges between 433 and 595 feet.
Discover more Bond Estate Selection at The Oaks Cellars now