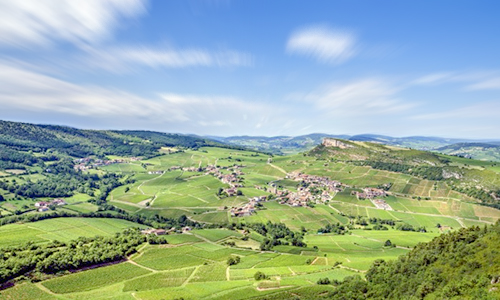 Burgundy is one of the most romanticized wine regions in the world.
The historic stretch of land traces its winemaking roots back more than 2,000 years, and is ground zero for some of the most coveted (and expensive) producers like Domaine de la Romanée-Conti, Henri Jayer, and Domaine Armand Rousseau.
Located on the eastern side of France, tracing along the Saône river, a tributary of the Rhone, it is also home to a dizzying number of AOCs, more than any other region in France.
With Pinot and Chardonnay dominating most of the production, most Burgundy is produced from a single varietal, and very little blending is allowed, though some exceptions are made where Pinot Noir and Gamey can be combined.
The four grape varietals allowed in Burgundy are:
Pinot Noir
Chardonnay
Gamey
Aligote
The Classification System
Burgundy contains 33 Grand Cru vineyards, entirely concentrated in the Côtes de Nuit and Côtes de Beaune. Together these two AOCs are known as the Côte D'Or. Grand Cru vineyards are almost always found on the slopes of the hills, where the vines get the most sun exposure and better drainage. Premier Cru vineyards are often found just above or below these prime locations, while the villages usually remain concentrated in the valleys.
Burgundy Wine Trade Structure
Complex Burgundy hierarchy, Burgundy lovers have been struggling to learn the village level wine names, then the Premier Cru vineyards and finally the Grand Cru vineyards. The Burgundian wine trade is split in two between growers and négociants. This has arisen due to a law attributed to Napoleonic times – the laws of equal inheritance. When applied to the vineyards of Burgundy, over time, it has meant that individual growers may only own a small row of vines. This is only enough to produce a miniscule amount of wine.
The merchants in contrast buy grapes or wine from lots of different growers, make the wine in larger volumes and sell it on. To make matters more complex, some well-known growers will make wine from their own holdings as well as buying in grapes from elsewhere.
Burgundy very  top producers:
Domaine de la Romanée-Conti(DRC)
Domaine Leflaive
Domaine Armand Rousseau
Domaine Dugat-Py
Henri Jayer
The Grand Cru vineyards
Discover more Burgundy Fine Selection at The Oaks Cellars now