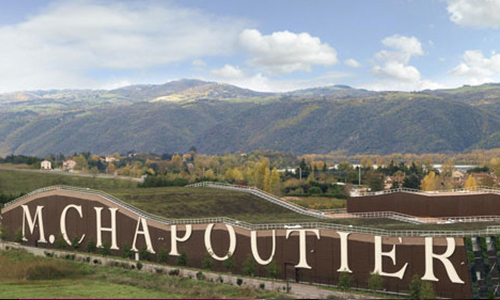 Chapoutier, one of the oldest names in the Rhone valley. Founded in 1808 by the Calvet family. It was sold to the Chapoutier family in 1855. The Calvet family sold the company to focus on their large, expanding negociant firm in Bordeaux. Polydore Chapoutier was the first of the Chapoutier family to head the company, and the only head of the firm not to have a name that started with the letter M. That tradition began with the next generation, started by Marius Chapoutier.
Today, Chapoutier is a massive negociant and winery located in the Rhone valley their offices are situated in the small community of Tain Hermitage. Chapoutier is both a negociant and wine maker. They are active all over the Rhone valley in every major appellation. Chapoutier makes great wine at every price level, from very expensive wines at the top end, to value wines from Cotes du Rhone.
Michel Chapoutier uses biodynamic farming techniques for all his vineyards. properties.
The white wine of Chapoutier Hermitage is best served with a myriad of different seafood dishes, shellfish, crab, lobster, sushi, sashimi, chicken, pork and veal, as well as Asian cuisine.
Discover more Chapoutier Hermitage Selection at The Oaks Cellars now