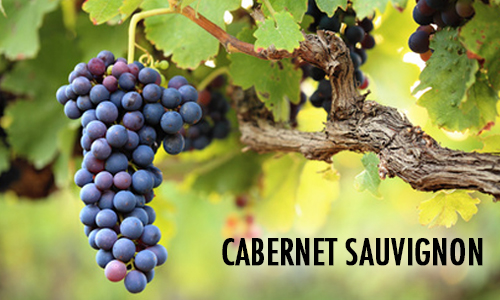 Cabernet Sauvignon is probably the most famous red wine grape variety on Earth. It is rivaled in this regard only by its Bordeaux stablemate Merlot, and its opposite number in Burgundy, Pinot Noir. From its origins in Bordeaux, Cabernet has successfully spread to almost every winegrowing country in the world. It is now the key grape variety in many first-rate New World wine regions, most notably Napa Valley, Coonawarra and Maipo Valley.
Wherever they come from, Cabernet Sauvignon wines always seem to demonstrate a handful of common character traits: deep color, good tannin structure, moderate acidity and aromas of blackcurrant, tomato leaf, dark spices and cedarwood. Used as frequently in blends as in varietal wines, Cabernet Sauvignon has a large number of common blending partners. Apart from the obvious Merlot and Cabernet Franc, the most prevalent of these are Malbec, Petit Verdot and Carmenere (the ingredients of a classic Bordeaux Blend), Shiraz (in Australia's favorite blend) and in Spain and South America, a Cabernet – Tempranillo blend is now commonplace.
There are two key reasons for Cabernet Sauvignon's rise to dominance. The most simple and primordial of these is that its vines are highly adaptable to different soil types and climates. Secondary to this, but just as important, is that despite the diversity of terroirs in which the vine is grown, Cabernet Sauvignon wines retain an inimitable "Cab" character, nuanced with hints of provenance in the best-made examples. The durability of the variety's fame; the familiarity and marketability of the Cabernet Sauvignon name has an irresistible lure to wine companies looking for a reliable return on their investment.
As a late-flowering and late-ripening variety, Cabernet Sauvignon grapes mature slowly. This can also work for or against wine quality; in a cold season or climate there is a risk of the grapes failing to ripen fully, while in most other conditions the steady rate of progress offers producers a wider choice of harvest dates.
Few would argue that the finest examples of Cabernet Sauvignon wine are found in Bordeaux and California, a standpoint supported by the 1976 Judgment of Paris. The past two decades have seen a raft of quality Cabernets emerging from New World regions such as Maipo in Chile and Coonawarra in Australia. These are gaining popularity with an increasingly broad consumer base as the world's most prestigious Cabernet Sauvignon wines become prohibitively expensive. The variety has now made its way even into such established and traditional Italian names as Chianti and Carmignano (albeit restricted to 15 percent of the permitted blend), evidence that even the oldest and most traditional wine institutions now recognize the value of this most famous of grapes.
Food matches for Cabernet Sauvignon include:
Fillet steak with foie gras and truffles
Beef wellington with honey roasted carrots
Korean-style beef stir fried in garlic, soy and sesame
Discover more Cabernet Sauvignon Selection at The Oaks Cellars now