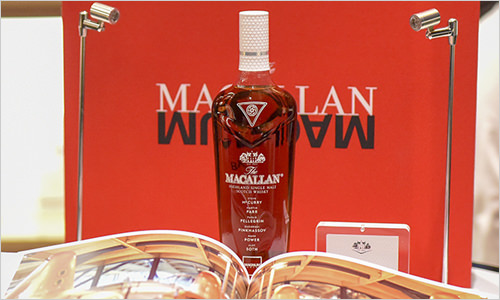 The Macallan has revealed its seventh Masters of Photography whisky.
In collaboration with Magnum Photos, a global photographic cooperative.
The Macallan Masters of Photography: Magnum Edition celebrates the construction and opening of the new Macallan distillery and visitor experience through never-before-seen imagery and a liquid inspired by the photographers.
The whisky is from a vatting of eight casks all differing in character, to reflect the photography style of each of the photographers. In addition to the liquid, each pack comes with an collection of images by the photographers as they capture different aspects of the new Macallan distillery and visitor experience.
While prior collaborations include partnerships with notable photographers such as Steven Klein, Mario Testino and Annie Leibovitz, for the first time in the Masters of Photography series, The Macallan partnered with multiple artists. Acclaimed photographers – Steve McCurry, Martin Parr, Paolo Pellegrin, Mark Power, Gueorgui Pinkhassov and Alec Soth – worked to capture the images.
As for the liquid, Macallan Whisky Maker, Sarah Burgess, has crafted a single malt from a combination of eight casks that reflect the photographers, the company says:
A spicy gingered cask reflects McCurry's bold and brave style.

A cask of age where oak influence prevails over individual characteristics symbolizes Parr's oblique view of the world.

A classic cask with an intense black cherry note complements Pellegrin's forceful black and white pictures.

Two casks reflect Power's photography which captures the familiar, but from an often obscure point of view.

An ex-European red wine cask imparting a rich mahogany red color represents Pinkhassov's contrasting and brightly colored work.

A first-fill American barrel with its delicate citrus notes captures Soth's heritage and spirit of adventure.

The final cask is an intensely sweet-yet-classic Macallan with edge and depth.
The whisky is 43.7% ABV. On the nose are hints of peat layered into warm spiced ginger with mellow oak notes, the company says, along with tangerine citrus and caramelised apple. Flavors include candied dried fruits and a butterscotch sweetness with a hint of spice that moves into a honeyed nut note. The finish is medium-to-long, ending in sweet earthy peat notes
The collectible set of images comes in an archive-style gift box. It is complete with a limited-release whisky encased within the new heavyweight Macallan bottle and engraved with The Macallan and Magnum Photos logos, as well as the names of the six Magnum photographers, a selection of six 11×14 inch signed prints (one from each photographer) and a book of photography.
The Macallan Masters of Photography: Magnum Edition is limited to 2,000 editions worldwide.
Source: beveragedynamics.com
Discover other Macallan Selections at The Oaks Cellars now